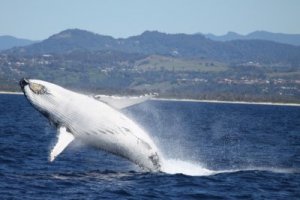 Are you looking for affordable accommodation while whale watching with your family? You will have a wonderful time on the Gold Coast, even on a budget.

As the whale-watching season begins, the Ocean Sands Resort welcomes you. You may view this magnificent spectacle from late May to October and relax on the Gold Coast.
Affordable Accommodation Main Beach
Ocean Sands Resort, located in the magnificent seaside metropolis, is ideal for holidaymakers looking for affordable accommodation on Main Beach. Our Main Beach 2 and 3-bedroom apartments are luxurious and pleasant, with well-designed, fully furnished interiors and modern laundry and kitchen amenities. First-rate amenities include a heated indoor pool, a tropical swimming pool, a spa, and steam rooms.

Moreover, Ocean Sands Resort provides access to various water sports on Main Beach, Surfers Paradise and Broadwater. You start your day with a healthy brisk morning stroll along the magnificent shoreline or a refreshing dip in the crystal waters.

Ocean Sands Resort guests can indulge in a shopping spree at the most upscale fashion boutiques. Tedder Avenue is well-known for its boutique shopping and dining. And if it's whale watching you're after, there are a variety of tours available on Main Beach.
Big Blue Charters
Do you want a private or intimate Gold Coast whale-watching experience with at most ten passengers? View the Gold Coast waterways and Wave Break Island, look for marine life in the Broadwater, including fish, birds, turtles, dolphins, rays, dugongs, and more, and then cruise into the open ocean searching for whales.

When you board, you will experience a tour unlike any other. Their highly specialised boat seeks to provide our guests with the closest intimate experience possible. The aluminium hull of the Big Blue 1 vessel is strong, and her inflatable sides give her the stability of a much bigger ship. Furthermore, competing for positions is unnecessary when you're constantly at the top with the best view.
Sea World Whale Watch
Departing from the Sea World Cruise Terminal in Main Beach, you will cruise on the elegant Spirit of Migaloo II vessel, taking in spectacular sights of the Gold Coast.

From late May to early November, the excursions run up to six times daily, transporting you to the Humpback Highway, where over 35,000 whales pass close to Gold Coast coastlines on their annual journey. Whales will be leaping into the air, smacking their tails, and diving deep into the ocean. Modern underwater microphones will catch the classic whale song during close encounters.
Spirit of Gold Coast
It is your chance to see the beautiful Humpback Whales in their natural habitat, with the stunning Gold Coast skyline in the background. Get up close and personal with these majestic creatures by sailing with Spirit of Gold Coast Whale Watching.

Spirit of Gold Coast is a family-run business passionate about Humpback Whales. They want to make your whale watching trip a very unforgettable experience as one of the pioneers of Whale Watching on Australia's East Coast! Spirit is known for providing excellent customer service. The team is welcoming, knowledgeable, kind, and enthusiastic.

Plan your next getaway today so that you may finalise all of your travel plans. And most importantly, book your Main Beach family accommodation directly today and get the best deal.