Posted in
Accommodation
@
Jun 27th 2022 10:57am
- By iLaunch Support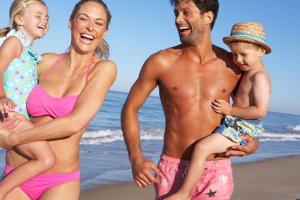 Do you want to visit Sea World, go on water adventures, and check out the dining scene on the Gold Coast? Then plan an exciting getaway to Main Beach.
Family-Friendly Accommodation
Reward yourself and your family by relaxing at the welcoming Ocean Sands Resort. When you check into their spacious and affordable accommodation Main Beach, get ready to be carried away. The main bedroom, which includes an en suite and walk-in closet, a separate main bathroom, a fully outfitted kitchen, and a laundry room, offers exceptional comfort.
Each apartment also has a spacious living room with a separate dining area and balconies with views of the Broadwater, Marina, or Hinterland. Imagine waking up and soaking up the picturesque scenery on your holiday.
The Ocean Sands Resort offers two different kinds of apartments. The following are your options.
2 Bedroom Standard Apartment: For families or a group of friends, the two-bedroom apartments are roomy and ideal. It has one queen-sized bed and two single beds that accommodate four people. There is an additional charge of $30.00 each night if you wish to add another.
3 Bedroom Standard Apartment: Although the two-bedroom apartment is adequate, the three-bedroom apartment is better if you require extra space and beds. There are two double beds and two single beds in it. Six people will fit in the room just well. If you want to add another one, there is a $30.00 surcharge per night.
Aside from stylish high-rise accommodation with cosy holiday apartments, Ocean Sands Resort offers first-rate amenities, starting with their tropical swimming pool.
Resort Facilities
Guests can enjoy a morning dip in the glittering outdoor pool, surrounded by a lush tropical garden. Do you prefer to be inside? No worries, there is one in the resort as well. Welcome to the spectacular indoor heated pool, where you can do a few laps to keep in shape.
Would you prefer to relax in a comfortable, quiet environment free from interruptions? The well-equipped spa and the on-site sauna are both great places to unwind. The sauna's heat soothes the body and mind, boosting circulation, among other things.
Oh, and there is no need to worry about your daily workout. You will not miss it as you can get in top shape at the resort's cutting-edge gym facility. A full-sized tennis court is also present. Tennis is a great cardio workout that enhances agility, balance, coordination, endurance and muscular strength.
These recreational amenities will undoubtedly provide relaxation and enjoyment to the entire family. But don't forget to have a delicious meal with your family and friends after unwinding and relaxing. Use the BBQ & Entertainment Area at the resort.
However, don't be afraid to speak with the friendly tour desk personnel if you want to venture out and enjoy the Gold Coast's food scene. You can get recommendations and booking help from Ocean Sands Resort.
Family-Friendly Restaurants
Here are five family-friendly restaurants on the Gold Coast that you might enjoy.
Do you wish to eat in a casual, coastal environment? Visit the Supporters Club for Surf Lifesaving in Surfers Paradise. They provide a contemporary outdoor eating experience at their restaurant, open seven days a week for breakfast, lunch, and dinner.
What about Japanese cuisine? On the Sea World Resort's lobby floor lies the acclaimed Hatsuhana Japanese Restaurant. In a contemporary atmosphere, the Gold Coast restaurant offers authentic Japanese food.
What about hamburgers? Get the freshest hamburgers at Betty's Burgers & Concrete Co. The Australian burger joint with a vintage 1950s vibe opened its doors in Noosa in 2014. However, they currently operate 36 outlets throughout several cities, several of which are on the Gold Coast.
Consider ordering some prime rib steaks. It is what Hog's Breath Cafe is known for. In 1989, the cafe in Airlie Beach, North Queensland, opened its doors and expanded in 1990.
Why not try a local favourite family-friendly restaurant? In September 1996, Mike's Kitchen debuted in the Robina Town Centre on the Gold Coast. After eleven years, Mike's Kitchen moved to 2 Gooding Drive, Merrimac, and since opening, it has developed into one of the most well-liked restaurants on the Gold Coast - just a short 20 minute drive but the best ribs you will ever experience!
Reserve your Main Beach family accommodation and enjoy the best price by booking directly today.