Posted in
Local Events
@
Jun 10th 2014 3:10pm
- By Administrator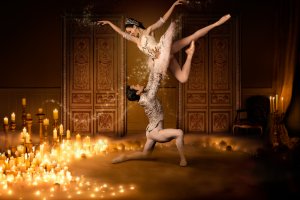 Those who have fallen in love with the most popular damsel in distress and fairy tale icon, "Cinderella", can once again enjoy this story reinterpreted through a dazzling stage performance presented by Queensland Ballet's new production of Ben Stevenson's Cinderella.
As it promises to be charming, humorous and blissfully romantic, this new Cinderella adaptation will be staged at The Arts Centre Gold Coast scheduled on three different shows on 19 and 20 September. Produced using Prokofiev's brilliant music, this fairy-tale ballet has been performed by some of the most popular ballerinas today, including Margot Fonteyn.
Relive your childhood and expect an animated moment as you once again see the story of "Cinderella" and her prince charming. Imagine the glittering gown by her Fairy Godmother, how she makes her way to the royal ball in a marvellous pumpkin coach, and how she caught everyone's attention and captured the prince's heart by making a dazzling entrance. And of course, you'll again witness how her wonderful dream should end at midnight, and in a hurry to get away from the party, leaving that historic jewelled slipper behind.
From the tricks and deception of the Ugly Stepsisters to the exquisiteness and romance of the wedding pas de deux, this classic production of Ben Stevenson's Cinderella will absolutely be an awesome entertainment and will charm adults and children alike.
Enjoy this magical event while spending your holiday on the Gold Coast. Our Main Beach Holiday Accommodation is conveniently located near the event venue and all the main attractions in the city. To maximise your holiday on the island, Ocean Sands provides you the ultimate island getaway.
Make sure to secure your reservation now before tickets get sold out. To get the best rates and special deals at our Main Beach Holiday Accommodation, visit our website: http://oceansands.etourism.net.au/