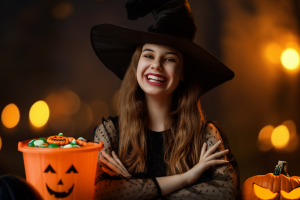 Are you soon travelling to the Gold Coast? What about this October? You can attend many family-friendly activities close to Ocean Sands Resorts - Main Beach family accommodation all year. However, two fantastic family-friendly events are happening in October, starting with Spooky Nights.
Spooky Nights at Sea World Marine Park
At Sea World, a popular theme park on the Gold Coast, you will experience a world of fun and adventure thanks to the abundance of thrilling rides, entertaining shows, and aquatic animals.

However, the park hosts an unforgettable and enjoyable family event every Halloween. Sea World's after-hours family event, Spooky Nights, is only available to Village Roadshow One Pass holders. The park transforms into a spooky land, which begins at 5:30 p.m. On October 13, 14, 20, 21, 27, and 28, you can explore fabulous precincts and enjoy various spooktivities, events and presentations, selected rides and more.

Along with the permanent precincts of the park like Nickelodeon Land, Shipwreck Bay, and The New Atlantis, there are other areas you should check out on Spooky Nights. Take part in the light and sound show at the Ghostly Groove Plaza. Adults can enjoy a delicious meal from the Pizza Shack or Prime Burgers while the kids have fun.

Make sure also to visit Monster Mansion to encounter the monsters prowling outside. Then, head to the Black Lagoon to witness the magnificence of Shark Bay and other notable undersea species at their most active. Also, stop by The Pirate Grotto to see the pirate gang!

But that is not all! The Dolphin Presentation by Night is a permanent feature presentation at Sea World. There are two additional shows you must see during the Spooky Nights. Prepare for the fantastic Dora's Halloween Dance Fiesta and the Monster Mayhem Laser Lightshow.
Groundwater Country Music Festival
Take advantage of the Groundwater Country Music Festival from October 20 to 22 if your family likes country music. All ages are welcome at this family-friendly music event; however, be aware that some clubs and venues may have age limits owing to licensing.

On the Gold Coast's Broadbeach, the Groundwater CMF transpires at various venues, parks, and city streets. Everyone is welcome to attend the festival for free! But they have a "first in, best dressed" rule if you want to get a front-row seat for one of their headliners.

For its tenth year, the festival brings together some top country musicians. The three-day festival will be jam-packed with beautiful country music streaming through every nook and cranny of the precinct, featuring The Wolfe Brothers. The Wolfe Brothers, a festival favourite and multiple award-winning country rock band known for their exceptional musicianship, harmonies, and charisma, are bringing their enthralling live performances back.

Also performing are two of Australia's top country music performers. Don't miss Adam Harvey & Beccy Cole as they play several fantastic songs off their new album in October! The Gympie native Caitlyn Shadbolt heads to the Gold Coast! She has won accolades, nominations, and number-one spots on the ARIA Country charts. The two sides of Caitlyn as an artist are in her most recent album, "Bloom & Surrender," which brings both celebratory and healing energy to the Groundwater CMF stage.

You can catch all these artists and much more in the 10th year of Groundwater CMF. Book your accommodation at Ocean Sands Resort to enjoy these two family-friendly events.

Ocean Sands Resort offers affordable Main Beach 2 & 3 Bedroom Apartments. With a main bedroom that includes an en suite and walk-in closet, a separate main bathroom, a fully outfitted kitchen, and a laundry room, each offers exceptional comfort. Additionally, there are balconies with views of the Broadwater, Marina, or Hinterland and a sizable lounge with a separate dining space. Spend the holiday having fun and treating yourself by staying at Ocean Sands.

Book now!