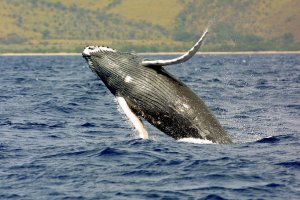 Whale Watching Tours in Main Beach

The Gold Coast is one of the best places to spot humpback whales in the whole world. So, during your stay at our Main Beach holiday accommodation, why not cross another experience off your bucket list and take a tour by boat to witness these beautiful and humbling creatures for yourself.

Between June and October every year, thousands of magnificent hump back whales migrate to the Gold Coast to breed in the warm ocean waters. During these months, the whole coast becomes a hot spot of whale activity, and they can often be spotted frolicking only meters from the beach.

There are several great whale watching tours close to Ocean Sands Resort, many of which run from nearby Marina Mirage. These tours have such a high sighting rate that the majority confidently offer customers a full refund in the unlikely event of a no show. Don't miss out on the chance to observe these magnificent mammals up close as they cavort just metres from your boat. If you're lucky, your tour might also attract some curious dolphins and you could even spot sea turtles gliding serenely through the beautifully clear water.

Most of the whale watching tours in Main Beach last for around three hours and take place throughout the day.
Image Source: GeekPhilosopher