Posted in
Local Events
@
Aug 22nd 2012 6:16pm
- By Administrator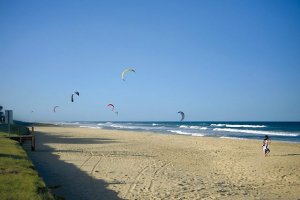 From December 1 to 9, the best freestyle and wave kitesurfers from around the world will compete on the beautiful beaches of the Gold Coast. Catch this spectacular showdown as the PKRA World Professional Kitesurfing Tour heads to Main Beach Parade, Main Beach within walking distance from our Main Beach Family Accommodation.
Expect amazing kitesurfing action as internationally renowned kitesurfers as well as home grown favorites like Andy Yates, Ewan Jaspan, and Keahi de Aboitiz stun the crowd with their freestyle moves.
There will be plenty of side shows and activities to entertain the crowd such as parachute displays, skydive displays, capoeira shows, treasure hunts, zumba demonstrations, and stunt airplane displays.
At night, the party continues. There will be awesome parties at Temple Discotheque in Surfers Paradise. Expect swimwear model parades, dancing shows, and the chance to strut your stuff to the City's best DJ's.
Watch the PKRA riders put on a great show. This is an event you should not miss.