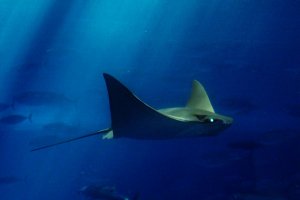 As one of the most favourite holiday locale in the country, the Gold Coast takes pride in providing premium tourist destinations as well as excellent accommodations that can definitely fulfil your fantasy getaway. Theme parks, wildlife sanctuary, malls and restaurants are just among the many places our holiday makers at the luxurious Ocean Sands Resort can visit while having a wonderful vacation at the magnificent shores of the Gold Coast.
Aside from a slew of exciting inland places and escapades to carry out while staying at the superb Main Beach holiday accommodation, vacationers can also try a different kind of adventure as you plunge into the deep and shallow waters in the Gold Coast. Our guests at the Main Beach family accommodation can experience the thrill of the underwater exploration and marvel at the flourishing marine life at the most well-known dive sites in the Gold Coast.
Just a short boat ride from Ocean Sands, you'll discover the spectacular dive site off the coast of Cook Island. Regarded as the most popular dive site in the Gold Coast, Cook Island is suitable for both amateur and experienced divers. With a depth of 10-20 metres, you'll see some colourful soft and hard corals wherein you'll find several marine creatures that inhabit the area such as groupers, puffer fishes, turtles, wobbegong sharks, blind sharks, nurse sharks and leopard sharks.
For those holiday makers at our elegant yet cheap accommodation in Main Beach who are daring enough to swim in the "sharky" spot can take on a challenging dive at the Nine Mile Reef. A mere 40 minute boat ride from our Main Beach apartment accommodation, Nine Mile Reef has a depth of 10-30 metres and has a rocky reef terrain. Recommended for intermediate divers, this awesome dive site is home to some amazing yet dangerous variety of sharks such as the grey nurse sharks, hammerhead sharks, blind sharks, bronzw whaler and leopard sharks. You can also find other sea critters like turtles, manta rays and sting rays.
Our vacationers at the Ocean Sands Resort can also explore the Scottish Prince wreck, one of the most popular wreck diving sites in the region. With a length of 64 metres, the iron barque with three steel mast sank while voyaging from Scotland to Brisbane. Nowadays, the shipwreck is a favorite dive site in the Gold Coast that is mostly enjoyed by scuba diving enthusiasts. The Scottish Prince ship wreck is covered with sponges and corals which commonly inhabited by a variety of sharks and tropical fishes.