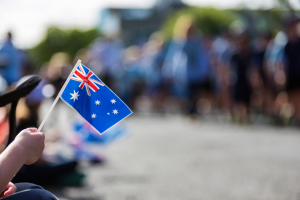 Book a stay at Ocean Sands Resort's luxurious yet reasonably priced Gold Coast accommodation this ANZAC Day. It is between Surfers Paradise's world-class beaches and the tranquil seas of the Broadwater, making it close to all of the ANZAC Day events that the RSL Surfers Paradise Sub Branch is hosting.

Below is a schedule of events for ANZAC Day at the RSL Surfers Paradise Sub Branch.
ANZAC Day March
The ANZAC Day march or procession serves as the focus of commemorations of ANZAC Day. It offers the chance to honour former and current service troops and show support for them. By bringing together active-duty personnel, cadets, and other community members, it pays tribute to all who have served in the Australian and New Zealand Defense Services.

The ANZAC Day march in Surfers Paradise begins at five in the morning. Around 4:45 am, participants will converge outside the subway at 9 Beach Road in Surfers Paradise.
ANZAC Day Dawn Service
The Dawn Ceremony takes place at The Monument on The Esplanade from 5:30 to 7 in the morning. The ANZAC Memorial on the Esplanade is across from Trickett Street.

The Dawn Service is a solemn ceremony that includes wreath-laying, playing the Last Post, and observing a minute of silence. The Dawn Service is rooted in protocol and tradition.

After the Dawn Service, the Gunfire Breakfast is at the Diggers and Sports Club (formerly Surfers Paradise RSL). Admission is free for those with valid RSL QLD cards, but a gold coin donation is required.
ANZAC Day Ceremony
The main ANZAC Day ceremony will occur in Cavill Park from 12:00 to 1:00 pm. As is typical for ANZAC Day ceremonies, wreaths laying, playing of the Last Post and observing a minute's silence.

The Diggers and Sports Club will serve refreshments after. At 2:00 pm, Two Up will begin. Two-up is an Australian game created by Australian soldiers during World War I and is now customarily played on Anzac Day at bars and RSL clubs nationwide.

Thousands of people attend the nationwide commemoration of Anzac Day. Get your Gold Coast apartment accommodations as soon as possible so you can take some time off and observe the ANZAC Day dawn service without difficulty.
Affordable Accommodation Main Beach
Even on a tight budget, you can have a great stay. You may take advantage of Ocean Sands Resort's scenic beachfront metropolis by staying at this affordable accommodation on Main Beach. It provides comfortable, quaint two- and three-bedroom apartments with a well-designed, furnished interior and a fully equipped modern kitchen. The top-notch amenities, which include a heated indoor pool, a tropical swimming pool, a spa, and steam rooms, will also thrill guests.

Ocean Sands Resort offers access to various water sports because it is close to world-class beaches. Also, you may enjoy Tedder Avenue's well-known boutique shopping and outdoor dining. Alternatively, spend quality time with your family at famous Gold Coast amusement parks like Dreamworld, Movieworld, and Seaworld.

Please make your Main Beach Holiday Accommodation reservation with us right away. Visitors arriving from Coolangatta may need to drive 35 minutes from the airport, while those coming from Brisbane may need to go 75 minutes. You can get dropped off right at the Ocean Sands Resort by taxi. Both Brisbane and Coolangatta Airports offer limousine services and door-to-door transports.

Book now!