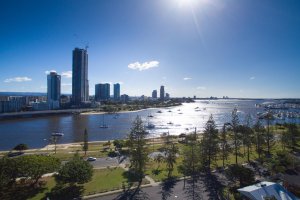 Want to enjoy the Gold Coast but unsure where to stay? Main Beach won't disappoint in everything it has to offer, from its laid-back beach vibes and local dining scene to Sea World Marine Park and famous Surfers Paradise only minutes away.

Our affordable Main Beach holiday accommodation is ideal for families and groups, located just a stone's throw from Main Beach with a whole range of resort facilities to take advantage of. In a short read, here are five reasons to pick Main Beach as your Gold Coast holiday base!
Main Beach Views
Main Beach is a relaxed Gold Coast beach, the northern neighbour to Surfers Paradise Beach with sweeping white sand, calm ocean waters for swimming and paddling and the best views down the coastline. Take an oceanside stroll on Main Beach to take in the views of Surfers Paradise and its tall buildings, complete with picturesque Burleigh Head National Park in the distance. For the best sights, visit the Spit Sand Jumping Jetty!
Stunning Oceanfront Parks
When it's time for a change of scenery, Main Beach boasts a number of oceanfront parks in The Spit area, including Philip Park, Muriel Henchman Park and Doug Jennings Park. All next to the water, these parks set for the scene for holiday strolls, picnics and leisure activities such as yoga - visit Philip Park for its views of the Pacific or Doug Jennings Park for South Straddie and Wave Break Island.
Sea World Gold Coast
Holidaymakers come from all over the Gold Coast for Seaworld Marine Park, situated on Seaworld Drive Main Beach with a full day of excitement in store. See each underwater exhibit, enjoy rides and roller coasters big and small, and don't miss the award-winning daily marine life shows. For an experience to remember, swim beside the park's loveable dolphins and seals!
Tedder Avenue Dining
A mere stroll from our location at Ocean Sands Resort, Tedder Avenue is the heart of dining in Main Beach, boasting an eclectic selection of award-winning local restaurants and cafés that each offer a mouthwatering menu and atmosphere paired with first-class customer service. A few to look out for include Hot Shott, Main Wave and Shuck Restaurant.
Gold Coast Watersports
For adventurous thrill-seekers, Jet Ski Safari and Gold Coast Watersports are two leading Gold Coast tours that offer jet-skiing, speed boating and parasailing in the ocean, through the local waterways and to both Wave Break Island and South Stradbroke Island. Both operators are located on Seaworld Drive!
Ocean Sands Main Beach Apartment Accommodation
The above are five of many reasons to book your Gold Coast holiday in Main Beach, where you're guaranteed your ideal stay with Ocean Sands Gold Coast. We offer fully self-contained two and three-bedroom holiday apartments with stunning balcony views, complete with onsite guest facilities that include an outdoor pool, indoor spa, spa, sauna, gym and more!

Find more information and start planning your Main Beach Gold Coast holiday today - just visit Ocean Sands.