Posted in
Local Events
@
Jun 3rd 2016 1:30pm
- By Administrator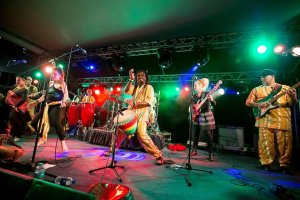 Who's ready to get their Gold Coast weekend all jazzed up? Don't miss out on all the fun and awesome music. Be part of the 2016 edition of the much-anticipated Broadbeach Jazz Festival on the Gold Coast, brought to you by Broadbeach Alliance.

From 20th to 21st of August 2016, the reinvigorated Broadbeach Jazz weekend will be playing mainstream jazz with a touch of fringe and family feel all day long. So be sure to hang out at any of the featured venues to catch amazing performances, street entertainment, eclectic street markets, and a lot more.

Catch artists like: Queensland Youth Orchestra Big Band, The Living Room, Caxton St Jazz Band, Louie Shelton, Maggie Britton, Kerbside Collection, The Poodle Ladies, Lady in Lights, Nicole Parker Brown and Kevin Briggs, ABC 4 Kids Lah Lah's Big Live Band, Galapagos Duck, Wilbur Wilde's Blowout, George Washingmachine's Gypsy 5, Nicole Parker Brown, The Jason Machado Group, Heidi Hoops, Gemma Giraffe and Ranger, and so many more perform at The Oasis, Kurrawa Park, Surf Parade stage, Lola's Restaurant, Niecon Plaza, Victoria Square Fountain, Broadbeach Mall, Oasis Shopping Centre, Surf Parade, and Sofitel. For the full program, you may visit http://www.broadbeachjazz.com.

Meanwhile, you can choose to escape to the scenic stretches of Main Beach. Each of our elegantly appointed yet affordable rooms lets you experience a relaxing home away from home. Apart from waking up to peaceful mornings, we offer you world-class amenities to best compliment your Gold Coast adventures.

Here, you can start your early mornings with a dip in our indoor and outdoor swimming pools. Relax your tired muscles in our a spa or jacuzzi. Work up a sweat in our well-equipped gymnasium or tennis court. Secure your car within our parking area. Grill your afternoons away with our barbecue facilities. Feel free to consult our amiable tour desk staff who can thoroughly assist you with your bookings. Enjoy these and so much more on your next visit to this part of Queensland. Got time? Conclude your eventful day ahead by spending a relaxing Gold Coast Sunday Sesh near our broad range of Main Beach Apartment Accommodation with your loved ones.

To book your stay at Ocean Sands now, you may visit http://oceansands.etourism.net.au. It's fast and easy!
Image Source : Broadbeach Jazz Weekend