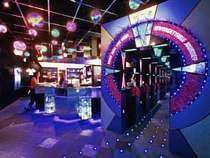 Step into an amazing world and journey into 20 futuristic, maze-like worlds of wonder. Experience a sensory overload filled with unique special effects, atmospheric sound fields, ultra groovy music, and ilusions. Gasp in wonder at the marvelous effects. Reality fades, and you get thrown into a world of sheer spectacle.
Infinity is a mind-blowing interactive fun-house that stretches the imagination and takes you to places far beyond your wildest dreams. This 40-minute journey is suitable for adults and children above 8 years old.
The amazing Infinity journey takes around 40 minutes. It can easily fit into your schedule. It is great fun for the family, for a group of friends, for birthdays, and special occasions. Celebrate your memorable events at Infinity.
Infinity is open from 10am to 10pm daily. It is located at Chevron Renaissance within minutes from our Main Beach Family Accommodation.
To learn more, visit www.infinitygc.com.au