Posted in
Local Events
@
Jan 22nd 2019 3:01pm
- By Administrator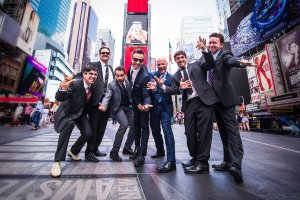 A Night on Bourbon Street New Orleans Mardi Gras - March 6
Take a journey to 1930s New Orleans in A Night on Bourbon Street - New Orleans Mardi Gras, a world-class swing and jazz performance by the internationally acclaimed Professor Cunningham and his Old School. Led by Adrian Cunningham, this swanky show delivers the signature New Orleans swing and jazz sound with nothing but cool prowess and fervent passion, offering old-souls a nostalgic experience straight from the heart of New Orleans. Enjoy A Night on Bourbon Street at Home of the Arts with one performance on March 6.
Shen Yun 2019 - March 12 and March 13
Marvel at millenniums of colourful Chinese history in Shen Yun, the sensational international production that has brought China's ancient traditions, stories and culture back in the spotlight. Shen Yun is a once-in-a-lifetime experience with stunning stage backdrops, beautiful costumery, and a cast of talented performers that dazzle as they take you on a journey through ancient China. Don't miss Shen Yun on its 2019 tour at Home of the Arts on March 12 and March 13.
The Sapphires - March 15 and March 16
The acclaimed Tony Briggs story returns to the stage this 2019 with an unmissable two-day showing at Home of the Arts on the Gold Coast. Both a popular stage production as well as a movie, which was released in 2012, The Sapphires depicts an all-female singing group as they tour Australia throughout the '60s. See this inspiring musical-drama with two performances at Home of the Arts on March 15 and March 16.

Book with Ocean Sands Resort and enjoy these exciting shows at HOTA near our affordable Main Beach 2 & 3 bedroom apartments. See our full choice today at https://www.oceansands.com.au/rooms