Posted in
Accommodation
@
Oct 21st 2012 8:21am
- By Administrator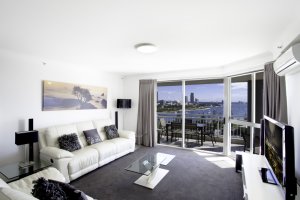 Take advantage of our October/November special offer. Pay only $60 for a Wednesday night when included in a 3 night booking.
Our comfortable Main Beach Family Accommodation is just a few minutes away from the most popular Main Beach attractions. Bring your kids to Sea World to meet the most adorable sea creatures. Learn how to surf at Get Wet Surf School. Even if you've never surfed before, you'll be hitting the waves in no time. Enjoy the freshest seafood at Gold Coast Fishermen's Co-Operative Limited. Go to Marina Mirage and enjoy the ultimate waterfront shopping and dining experience. Dine at the finest award-winning restaurants and shop at stylish designer boutiques.
After enjoying a world of attractions, come home to the comfort of our Main Beach Family Accommodation. All our apartments have a large lounge, a separate dining area and balconies with stunning views. Choose from our 2 Bedroom Deluxe Apartment, 2 Bedroom Standard Apartment, 3 Bedroom Standard Apartment and 3 Bedroom Deluxe Apartment. We have accommodations to suit your budget and needs.
To book your stay at Main Beach Family Accommodation, visit www.oceansands.com.au