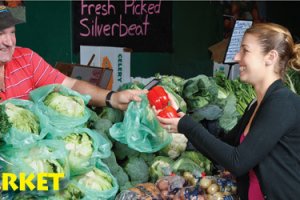 Shop to your heart's content without burning a hole in your pocket. Carrara Markets offer a wide array of goods, produce and stalls. With over 500 stalls covering 10 acres, Carrara Markets are a treasure trove of the curious and the unusual.
You will find over 100 fashion outlets that sell clothing, jewelry, sunglasses, resort wear, shoes, and many more. There are fresh food stalls, vegetable stalls, produce sections, continental delis, and even European specialties stores. Browse through the book stalls, LP's, and music memorabilia. Tourists can buy souvenirs to bring home to their friends and family. Stock up on furnishings for the home. Try out new health and beauty products. Be amused at the selection of novelty items. Carrara Markets have everything from Arabian oil perfumes to Venus hats and fascinators at bargain prices.
Carrara Markets are open every Saturday and Sunday from 7am to 4pm. Located at Carrara, just a few minutes away from our Cheap Accommodation Main Beach, spend your weekend enjoying a delightful shopping spree at Carrara Markets.
For more information, visit http://carraramarkets.com.au
Image Source : Carrara Markets