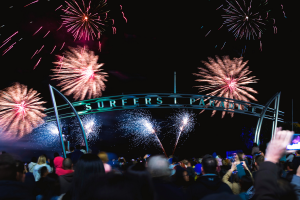 Do you want to see a symphony of colourful light, music, and coordinated pyrotechnics? On the Gold Coast, you can. Mark your calendars because the legendary SeaFire Festival is returning!
On June 4, watch the world's top pyrotechnic show designers and producers light up Surfers Paradise's beachfront. South America and Africa, two of the world's finest pyrotechnics, will compete for the coveted crown in the City's own international fireworks competition on the shores of Surfers Paradise Beach.
SeaFire is a free family event that begins at 6 pm Pre-show entertainment will include ZimBoyz with their acrobatic comic street performance, local DJs, traditional Brazilian drummers, Capoeira exhibitions, and Samba dancers. The three stunning firework and music shows of the SeaFire Festival are scheduled to light up the sky at 7 pm and 8 pm. Skylighter, Australia's finest pyrotechnics team, has organised the grand finale at 8.45 pm.
Why take the whole family on a weekend trip? You will enjoy the SeaFire Festival, but you will also get the opportunity to unwind and explore the surroundings. All you need is a place to stay that gives you access to everything.
Main Beach Family Accommodation
Book your Main Beach Family Accommodation at Ocean Sands Resort. You can experience a luxurious and relaxing stay.
Ocean Sands Resort has spacious, fully appointed apartments that offer superb comfort, with the main bedroom having its own en-suite and walk-in robe, a separate main bathroom, and a fully equipped kitchen and laundry. All units provide a large lounge with a separate dining area and balconies with views of the Broadwater, Marina or Hinterland.
You have the option of a 2 Bedroom Standard Apartment or a 3 Bedroom Standard Apartment.
The 2 Bedroom Standard Apartment has one queen-sized bed and two single beds perfect for five people. The 3 Bedroom Apartments, on the other hand, have two double beds and two single beds, or one double bed. The room may accommodate up to 7 people.
To make the most of your holiday, take advantage of Ocean Sands Resort's first-rate amenities, which will undoubtedly give rest and pleasure to the entire family. Take a soothing morning dip in the stunning outdoor pool, surrounded by lush tropical gardens. You can also swim a few laps in the lovely indoor heated pool.
Relax in the well-equipped jacuzzi or pay a brief visit to the sauna. You'll never miss a workout because the resort features a modern gym and a full-sized tennis court on-site. Don't forget to stop by the BBQ facilities for a delicious supper with family and friends or explore the Main Beach food scene.
Drop by the tour desk, and the resort's helpful staff will help you select the ideal restaurant and book tickets for attractions so you can have a stress-free vacation.
Are you looking forward to attending the SeaFire Festival and spending the weekend away? Now is the time to book your Main Beach 2 & 3 Bedroom Apartments. By booking direct, you can get the best deal!