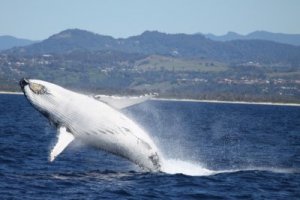 Have a whale of a time and see majestic Humpback whales up close. Try the Sea World Whale Watching Tour and experience a unique animal encounter with the world's largest marine mammals.
Climb aboard the luxury whale watching vessel Spirit of Migaloo. The vessel provides air-conditioned luxury and comfort. Spirit of Migaloo is Australia's most advanced whale watching vessel with an amazing on-board Whale Theatre, three levels of viewing platforms, large walk-around decks, ultra-quiet low emission engines, whale friendly keel, toilets on-board, and even an underwater microphone which lets you listen in on the whales as they communicate by grunting and singing.
Restricted number of passengers ensures that you get spectacular unblocked views. Enjoy a personalized whale encounter.
Learn about these fascinating creatures as expert tour guides share their knowledge of whales. Using a colorful and interactive mix of 3D movies, Real-Time Tour Map technology and live whale songs heard through an underwater microphone, this whale experience will be well worth it.
You are guaranteed to see whales or you will be provided with a 100% refund from June to October. The Sea World Whale Watching Tour is located at the Sea World Cruise Terminal within minutes from our Main Beach Apartment Accommodation. Book your whale watching tour now.
For more information, visit www.seaworldwhalewatch.com.au