Posted in
Accommodation
@
Dec 27th 2017 2:51pm
- By Administrator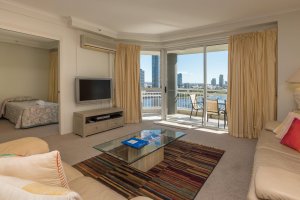 Are you saving up for something special? Why not save up for a weekend trip for the Gold Coast? Reward yourself with a worthwhile holiday vacay to a beautiful beachfront location like Main Beach and consider staying at an idyllic holiday resort like Ocean Sands Resort?

Strategically located in the famous corner of Tedder and Hughes Avenue, Main Beach, Ocean Sands Resort is a beautiful holiday establishment that houses high-rise living spaces and first-class amenities that lets you live beyond your means. Check out our Main Beach family accommodation facilities' features:

Hold barbecue and beer parties at our barbecue and entertainment area. Enjoy good barbecue and beer, and heartfelt conversations with your loved ones. Our resort has a spacious and equipped barbecue area to help you celebrate simple yet worthwhile moments with the family.

Go for a refreshing dip in any of our swimming pools and jacuzzi. Our resort takes pride in our choices of pools. We've got a tropical outdoor pool and a heated indoor pool so you can enjoy the best of both pools. Meanwhile, our jacuzzi is useful for relaxing your tired muscles into warm water after a long day outdoors.

Sweat it all out at our gymnasium and/or tennis court. Are you worried about getting behind your workout schedule? No worries, our well-equipped gymnasium and full-sized tennis court are perfect for guests who embrace an active lifestyle.

Follow your workout with a sauna session. Cap off your intensive workout with a few moments at our steam room.

Friendly tour desk assistance and onsite management. Allow our tour desk and onsite managers are available to help you achieve a hassle-free accommodation. Additionally, for recommendations on the best nearby attractions, feel free to approach our tour desk.

Enjoy these amenities and more when you check in at Ocean Sands Resort anytime this year. Book your holiday address in a jiffy. Log in to http://oceansands.etourism.net.au to check out our list of two- and three-bedroom holiday apartments, and we will see you soon.