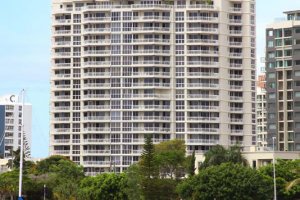 Enjoy a relaxing and pleasurable Gold Coast holiday at the most luxurious Main Beach family accommodation in the district where locals go for the most exciting thrills and mouth-watering food. Ocean Sands is your holiday address in colourful Tedder Avenue, Main Beach.
When you check in our Main Beach apartment accommodation, you'll realize from the impressive porte cochere and the breathtaking beachfront setting that Oceans Sands is not your run of the mill cheap accommodation in Main Beach. No other Main Beach family accommodation achieves Ocean Sand's balance of elegance and warm, Gold Coast ambience.
Our spacious apartments are made more welcoming by balconies that boast of views of the Broadwater, Marina, and Hinterland. Moreover, our Main Beach 2 or 3 bedroom apartments provide an en-suite and walk in robe in its main bedroom, a separate main bathroom, and a full equipped kitchen and laundry facilities. Ocean Sands also offers Internet access so you won't miss those Café World sessions.
We encourage you to have a midday siesta at the indoor heated pool or spa. Or wade and unwind at the tropical pool, spa pool, and steam room of our Main Beach family accommodation. We also have our own gym and tennis court so you won't have to compete with beach bodies to keep fit and show off your Wimbledon serve. After all the rejuvenating activities, the lush tropical gardens and barbecue area of our Main Beach apartment accommodation will then serve as the perfect setting for a dreamy, alfresco dinner with the family.
Ocean Sands is the starting point of your Gold Coast adventure. Our Main Beach family accommodation provides you with a central location that has easy access to the world-class cafes and restaurants and trendy shopping centres of Main Beach. Meanwhile, the patrolled, fine sand beaches of the Broadwater are an invitation to learn surfing, boating, and other water sports. You can also just soak up the sun and take in the pure Gold Coast atmosphere that can only be experienced in Ocean Sands.
For bookings at Ocean Sands, please click here.