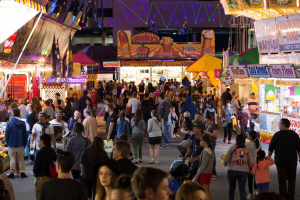 Allow Ocean Sands Resort to be your Gold Coast holiday home!

We are perfectly on Tedder Avenue, meaning you may stroll down the outdoor cafes, upscale restaurants, and chic shopping promenade. Furthermore, theme parks are only a short drive away, with Sea World only a few minutes away.

More importantly, Ocean Sands Resort Main Beach holiday accommodation is easily accessible from Gold Coast Airport and can provide fast access to the upcoming 12th BLEACH* Festival and the 2023 Gold Coast Show.


BLEACH* Festival

August 3 - 13

The BLEACH* Festival is in its 12th year and continues to highlight the city's landscape in all its beauty by presenting stories about the area we call home. North Burleigh, Broadbeach Cultural Precinct, Gold Coast Botanical Gardens, Home of the Arts (HOTA), and Currumbin Valley will host various events for the festival's 2023 edition.

Here are some of the events you can go to.

From August 3 to 5, enjoy Roller Coaster at the HOTA Outdoor Stage. Roller Coaster is a new music theatre production based on true stories that feature an action-packed skating spectacular, humour, drama, and a roaring live soundtrack.

Enjoy the BLEACH* activities at the Broadbeach Cultural Precinct from August 10 to 12. There will be a variety of pop-up venues where you may experience burlesque, theatre, stand-up comedy, drag, spoken word, and other performances.

Would you like to change the setting? From August 11 to 13, visit the Gold Coast's green oasis. The Gold Coast Regional Botanic Gardens' BLEACH* festivities will burst with melody and rhythm as the outdoor venue praises Australia's top singers, musicians, and songwriters.

The festival has multiple free and ticketed events at the five venues. The BLEACH* Festival runs for 11 days, so keep checking their website for updates on the schedule.

Aside from that, you will undoubtedly enjoy another fantastic long weekend on the Gold Coast as the Gold Coast Show returns!


2023 Gold Coast Show

September 1 - 3

The history of the Gold Coast Show extends back to the early twentieth century. Called initially The Southport Show, the event was in Recreation Reserve, now known as Woodroffe Park in Southport.

The Gold Coast Show celebrated its Centenary in 2006 and issued a book, '100 Shows -History of the Gold Coast Show' by Fiona Staun. This year, its 2023 edition will be magnificent, celebrating everything colourful, lively, and unique about the Broadwater Parklands.

You may catch and enjoy activities such as the Wood Chop Competition. Everyone loves the watch the competition's display of agility and strength. It will take place on Day 2 from 9 a.m. to 1:30 p.m. Make sure to take the youngsters on a pony ride. Pony rides will be available at the Farmland Precinct, located at the northern end of Broadwater Parkland.

Camel rides are also available! They are usually popular, so the Gold Coast Show will have them again this year. Also, brace yourselves for a fantastic explosion of fun! Bands, musicians, and entertainers will bring tremendous energy to the Triple M Loud and Live stage, setting the stage for extraordinary encounters.

Book your Main Beach family accommodation with us early to ensure a quick and enjoyable trip to the Gold Coast.