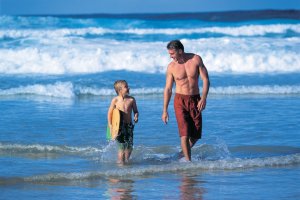 The Gold Coast has some of the most pristine dive and surf sites in the world. It has reefs that boast of unique flora and fauna and its waves give a strong sweep - that's why it is a preferred holiday destination for Aussies and foreigners alike.
One of the most well-known scuba diving and surfing sites is located at Main Beach. It is recommended that holiday-goers spend about a week or so to fully appreciate the beauty it has to offer.
Licensed or even aspiring divers and surfers can choose a cheap accommodation Main Beach where they can stay comfortable without being hard on the pocket. A great option is Ocean Sands resort accommodation.
From there, you can access the fantastic Gold Coast beaches and ultimately, a springboard to get to the one-of-a-kind underwater treasures. After a tiring but fulfilling diving and surfing experience, Ocean Sands guests can go for a short stroll at the beach or enjoy a midday picnic by the beachfront park.
Ocean Sands has two and three bedroom apartments with en-suite bathrooms, walk-in wardrobes, fully equipped kitchen and laundry facilities, lounges and dining space, and large balconies with spectacular views of the Broadwater and Marina. It is a perfect accommodation for medium to large group of holiday-goers.
For water enthusiasts, Main Beach on the Gold Coast is a must-see for its diving and surfing offerings.
For bookings at Ocean Sands, please click here.