Posted in
Accommodation
@
Nov 26th 2017 9:50pm
- By Administrator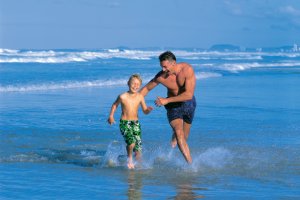 Have you been saving for a trip to the Gold Coast? Consider Ocean Sands Resort, and we'll show you exactly how to knock you off your feet. Conveniently nestled in the famous corner of Tedder and Hughes Avenue, Main Beach, Ocean Sands Resort boasts a sprawling establishment, high-rise living spaces, and first-class amenities that guarantee guests of rest and pleasure for the family.

In this blog entry, we walk you through the resort's wonderful features to get you all settled and ready for a week-long Gold Coast adventure ahead.

There's a barbecue and entertainment area for all your parties. Turn up the volume of your speakers as you play your weekend playlist while enjoying a good barbecue and beer with your mates. Our resort has a spacious and equipped barbecue area for all your parties.

Take a dip in any of our swimming pools. Ocean Sands Resort boasts a tropical outdoor pool and a heated indoor pool so you can enjoy the best of both environments.

Spend a relaxing down time via our jacuzzi. This feature is perfect for holidaymakers who, after spending an entire day walking on sunshine, want to sit back, relax, and dip their tired muscles into warm water.

A steam room or sauna. Burn a few calories off as you go in for a sauna session. Energise for an eventful day touring the bustling city.

Sweat it all out at our gymnasium and/or tennis court. Are you worried about getting behind your workout schedule? No worries, our well-equipped gymnasium and full-sized tennis court are perfect for guests who embrace an active lifestyle.

Excellent tour desk assistance and onsite management. Let Ocean Sands Resort take out any hassle out of our itinerary or accommodation. Whatever your concerns may be, our tour desk and onsite managers are available to assist you.

Secure the safety of your car via our parking area. We make sure that your car has a home, too.

Why look any further when your ideal Main Beach family accommodation is right here? Go ahead. Book your holiday address in a heartbeat. Go to http://oceansands.etourism.net.au to check out our list of two- and three-bedroom holiday residences, and we will see you soon!