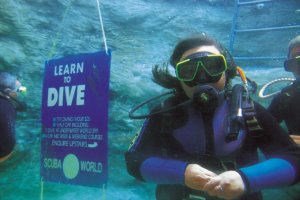 There are a lot of fabulous sights on the Gold Coast beaches, but there's also an underwater world you have yet to discover. If you've ever wondered what it feels like to breathe underwater and swim freely with aquatic creatures, then the 4-hour Gold Coast Introductory Scuba Dive is just for you.
Enjoy the feeling of weightlessness as you explore the depths of the ocean. Feel the solitary peace of being underwater.
No experience is necessary. You will be accompanied by a certified PADI instructor throughout the whole dive. Scuba diving equipment is also provided.
The boat, Discover, departs from Marina Mirage, not far from our Main Beach Holiday Accommodation. The boat heads for Wave Break Island, just 10 minutes away.
After an introductory course on the basics of scuba diving, you are ready to explore! Discover colorful coral reefs and swim among different species of fish. You can even hand feed them. Watch the fascinating marine life that exists beneath the surface.
After you surface, you can take off for a relaxing snorkel or simply lounge about on the boat and enjoy light refreshments.
A certificate is awarded to every diver. Divers should be at least 12 years old. The whole trip takes three to four hours. Courtesy pick up and drop off are included.
Be amazed at a world you've never seen before. Once you try scuba diving, you might get hooked for life.