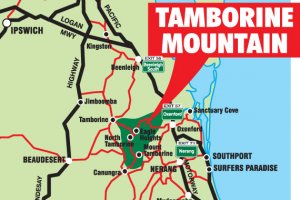 Take a relaxing holiday on the Gold Coast and enjoy simple pleasures while communing with nature. Known as the green behind the blue, the hinterland provides a stunning backdrop for the magnificent region of the Gold Coast and offers relaxing holiday adventures for everyone.
We encourage guests visiting our Main Beach family accommodation to take a hike at the Tambourine Mountain National Park where you'll find short walking tracks that lead you to breathtaking landscapes and scenery. Here is a short list of walking tracks within the Tamborine National Park which you can explore and enjoy during your Gold Coast stay:
Cedar Creek Falls track
Just minutes drive from our Main Beach apartment accommodation, you'll find Cedar Creek Falls track. Visitors will easily get to and from the 900m rock pools and lookout. The Cedar Creek Falls track offers a stunning view of the waterfalls, cascades and rock pool.
Macdonald Rainforest Circuit
The Macdonald Rainforest Circuit is a mere 1.4kn circuit and has a flat track that passes through the rainforest. You'll pass by piccabeen palm groves, large strangler figs as well as tall trees with hanging vines. A very ideal place for birdwatching, Macdonald Rainforest Circuit offers a peaceful haven for holiday makers looking for a relaxing morning stroll.
Curtis Falls, Joalah section
Guests at our Main Beach holiday accommodation can also take a short walk at the Curtis Falls where they'll walk through rainforest and descend steep stairs to a large pool at the base of Curtis Falls. There is an impressive view of the falls and surrounding columnar basalt precipice.
Witches Falls Circuit
The Witches Falls Circuit is a 3.1km return that would usually take about 1hour walk in the zigzag tracks down the steep mountainside through open forest with banksia trees and into rainforest with huge strangler figs. You'll also get to see seasonal lagoons surrounded by piccabeen palm groves and rainforest before you reach Witches Falls.
For bookings at Ocean Sands, please click here.