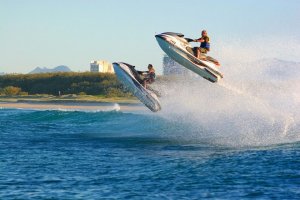 Jet Ski Safaris, the best on the Gold Coast for all things watersports, is currently offering 25% off all tours, including jet-ski hire, jet boating and parasailing!

Situated on Seaworld Drive in Main Beach - right next to Marina Mirage Shopping Centre - Jet Ski Safaris is one of the most exciting things to do when visiting the Gold Coast, offering multiple tour packages for couples, families and groups that involve jet-ski rides, parasailing and jet boating with island stops at Wave Break Island and South Straddie Island.

All tours now have 25% off!

Simply decide the watersports you want to do, then choose from one of their fantastic packages, which are priced per person and suitable for ages over 8 accompanied by an adult.

If you've ever wanted to explore the region's waterways, rip across the ocean or visit the amazing tropical islands just off the coast, Gold Coast Jet Ski Safaris shouldn't be missed on your next trip to the Gold Coast.
Ocean Sands Resort Accommodation
All Jet Ski Safaris tours will follow current social-distancing guidelines, and are yours to enjoy in just a 3-minute drive from our Main Beach accommodation on Hughes Avenue.

Our Main Beach apartments Gold Coast resort offers affordable 2 and 3 bedroom holiday units that are ideal for families and groups, with each providing all the comforts of home to enjoy from the moment you arrive.

With Ocean Sands, escape to the Gold Coast and enjoy a prime location near the white sands of Main Beach as you relax with full kitchen and laundry facilities, a spacious lounge, indoor and outdoor dining areas, modern ensuite bathrooms and a north-facing private balcony with views over the marina.

These feature comfortable arrangements of Queen and single beds, and will accommodate up to 5 and 7 guests respectively.
More Things to Do in Main Beach Surfers Paradise
Enjoy more - our central location in Main Beach Gold Coast offers plenty to do within walking distance, as well as Surfers Paradise to visit in just a 10-minute drive.

Main Beach will take your breath away each day of your stay, boasting superb coastal views, pristine white sand and clean ocean waters for paddle-boarding and swimming. Explore our stunning oceanfront parks, including Philip Park and Doug Jennings Park, and make sure to visit the Gold Coast Sand Pumping Jetty for more incredible views down the coast and up towards South Stradbroke Island.

Just south of Main Beach, relax, de-stress and meet the local peacocks at Macintosh Island Park - a secluded green oasis and the perfect spot to enjoy a time out.
Save - Book Directly with Ocean Sands Main Beach
Get 25% off your watersports adventure at Jet Ski Safaris and save on Main Beach Gold Coast accommodation with us at Ocean Sands, where we offer best price guaranteed on all bookings made directly through us.

You can find more information, as well as view our cheap direct rates, at Ocean Sands Main Beach.