Posted in
Local Events
@
Jul 1st 2022 10:25am
- By iLaunch Support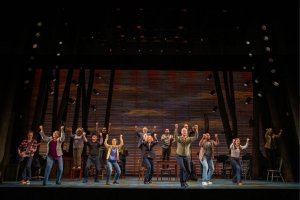 The theatre is a fantastic place where anything can happen! How recently have you seen a musical?
Consider this a cue to catch a show at HOTA, Home of the Arts. Don't miss Come From Away, a breath-taking new musical, as it performs at Surfers Paradise's Home of the Arts in July!
Come From Away, a Tony® and Olivier Award-winning musical, will perform at Home of the Arts for a three-week run. It will be the first Broadway production ever to visit the Gold Coast. Come From Away, a Tony® and Olivier Award-winning musical, chronicles the incredible tale of thousands of stranded travellers and the little Canadian community that opened its doors to them all.
The Home of the Arts Theatre 1 will host them through July 31. Be aware that there is no intermission during the 100-minute performance. A preshow supper is available at the Palette Restaurant.
Palette, a gourmet dining establishment with a well-curated wine list and locally produced cuisine, is located in the magnificent HOTA Gallery. By drawing inspiration from on-view artworks and significant exhibitions, Dayan and his crew in the kitchen will enhance your art experience and demonstrate how easily art and food can coexist.
In addition to musicals, HOTA is the location of other exhibitions. View their ongoing exhibit, HOTA Collects in Galleries 2, 3, and 4.
HOTA Exhibits
Over 100 pieces from the HOTA Collects exhibition are on display in over three HOTA Collects galleries, highlighting significant advancements in Australian art over the past 50 years, such as abstraction, feminist art, Indigenous art, ceramics, and photography from the twenty-first century.
HOTA Collects: Australia's Playground
This collection showcases artists from the Gold Coast whose work examines modern identity narratives while also exploring the distinctive characteristics of the area. There will be paintings, pottery, photography, and video in Gallery 2.
Hota Collects: Punching Up, 21st Century Indigenous Photography
Six contemporary Indigenous photographers' works are in Gallery 3's Punching Up exhibition, including Vernon Ah Kee, Tony Albert, Michael Cook, Karla Dickens, Dr Fiona Foley, and Naomi Hobson.
Hota Collects: Collide
Collide explores the avant-garde, mavericks, and provocateurs at the fore of contemporary art. Examine feminism, counterculture, and identity themes alongside fictional characters with superpowers. Collide is an eclectic story of passion, investigation, and wit that is unpredictable and unifying in its intensity.
Enjoy your time at HOTA, Home of the Arts, to the fullest. Reserve a room at the Ocean Sands Resort. The Main Beach holiday accommodation is on Tedder Avenue, a street lined with outdoor cafes, upscale dining options, and chic boutiques.
The resort is also close to HOTA, allowing you access to all of the precinct's attractions - live events, cinema, dining and Sunday HOTA Farmers & Artisan Markets.
Book your Main Beach family accommodation at Oceans Sands Resort