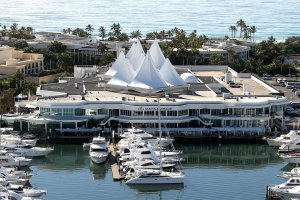 With careful planning, holiday travel can be free of blunders and disasters. Begin by deciding where you want to go. How about a trip to the gorgeous Gold Coast's Main Beach? This seaside destination has a large number of stunning beaches, but it also has a diverse range of non-surf activities, such as dining and shopping in places like Marina Mirage.
Marina Mirage is the Gold Coast's go-to spot for boutique shopping, waterfront dining, and a luxurious lifestyle.
Let's start with the fashion brands. Many of the world's and Australia's most renowned fashion labels are in the beautiful Marina Mirage Shopping Centre. It includes local stores and designers Sonia Stradiotto Couture, Holliday, Lazu, Element, WYSE, Anthony Leigh Dower boutiques, Christensen Copenhagen, Tommy Hilfiger, Gazman, and GANT. The majority of the stores in Marina Mirage are open every day from 10:00 a.m. to 6:00 p.m. However, you should always check with individual stores to confirm their operating hours, especially on public holidays or school vacation times.
Apart from shopping, you may visit Domani & Co for unique homewares, Anthea Polson Art for divine art pieces, and Esteem Clinic for luxurious beauty and pampering services. Above all, do not pass up the opportunity to dine at one of the restaurants.
The waterfront dining at Marina Mirage is remarkable. Relax and enjoy afternoon cocktails on the riverside boardwalk, or indulge in a sumptuous lunch or supper at one of the numerous award-winning restaurants - Omeros Bros. Seafood Restaurant, Glass Dining & Lounge Bar, Gods of the Sea, and La Luna Beach Club. Alternatively, you can visit Cafe Mirage, which is open for breakfast, lunch and coffee.
A weekly Gourmet Farmers Market is also held at the Marina Mirage. Locals love this market because it has the best range of fresh gourmet produce and cuisine artisan specialities. The market is open every Saturday, from 6:30 a.m. to 12 p.m.
With its stunning waterfront position and over 70 designer boutiques and restaurants, Marina Mirage is a must-visit. Would you like to be near this popular retail and dining destination? Then book a stay at Ocean Sands Resort.
Ocean Sands Resort is located on Main Beach and is only a 4-minute drive or 17-minute walk from Marina Mirage. Staying here also allows you to enjoy a morning stroll along the beautiful sands of Main Beach or a refreshing swim in its clear waters. You can also enjoy a variety of water activities because its location is between Surfers Paradise's world-class beaches and the calm waters of the Broadwater.
So reserve your Main Beach Holiday Accommodation soon. Ocean Sands offers affordable accommodation Main Beach that is big, well-appointed, and comfortable, with a master bedroom with en-suite and walk-in robe, a separate main bathroom, a fully furnished kitchen, and a laundry area. There are two-bedroom standard apartments and three-bedroom apartments to select from. Relax and pamper yourself in these magnificent and peaceful apartments. By booking directly, you can get the best deal.