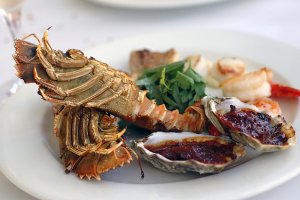 An Ocean Sands beach holiday is to experience the Gold Coast at its purest form: luxurious, laidback, teeming with energy and charm. Our Main Beach family accommodation is nestled in Tedder Avenue, a stylish boutique village lined with alfresco cafes, art galleries, lush shade trees, and streetlights. It is a captivating locale that encourages creativity and a reawakening of the senses.
When asked to recommend the perfect Gold Coast setting for a marriage proposal or an amorous dinner to reinvigorate romances, the gracious and fun-loving staff of our Main Beach apartment accommodation will not hesitate to answer: Go to Tedder Avenue. To the alfresco cafes and restaurants. You'll find your Romeo or Juliet waiting with a kiss there:
Shuck Seafood Restaurant
Image shown inset - Image source: flickr.com (melissanicole)
Just few minutes drive from our Main Beach 3 bedroom apartments is a seafood restaurant for lovers and first time daters. The 2009 Restaurant and Catering "Award for Excellence" Best Seafood Restaurant is most famous for its Sand Crab Lasagne, however, a selection of other mouthwatering dishes is also served here.
You can hold hands while enjoying King Prawns Ala Plancha (grilled king prawns in black forest bacon and roasted garlic aioli) with 98 Dom Perignon Champagne. The Grilled Oysters with bacon and devilled sauce is also regarded by locals as an aphrodisiac that absolutely works after a steamy afternoon swim. Visit Shuck's website - click here.
Domani's
Nothing spells "That's Amore" like a great Italian dinner. The best Italian restaurant near our Main Beach apartment is Domani's, a family-run restaurant with an alfresco café-style setting, which allows couples to take in Tedder Avenue's relaxed atmosphere while dining.
Domani's is famous for the Seared Seafood Scallops. The scallops, which go well with Vasse Felix Classic Dry White, will delight you with its graceful presentation on a bed of avocado and red onion salsa, spiced up with mango and chili mayonnaise. Another favorite of guests in our Main Beach family accommodation is the Fettuccini Marinara, a handmade tomato and basil fettuccini with prawns, crab meat, fish, scallops, calamari, baby octopus, and with garlic, white wine and olive oil. Visit Domani's website - click here.
Chill on Tedder
One of hippest restaurants in Australia, Chill on Tedder just recently received its second straight win in the Contemporary Australian Restaurant category at the Savour Australia Restaurant & Catering Awards for Excellence 2010 - Gold Coast.
Chill is known for imaginative and contemporary Australian dishes, and some of the yummiest are the Pan Roasted Fillet of Snapper (homemade saffron and preserved lemon gnocchi, garden peas, baby leeks, asparagus ruby chard, crumbled fetta, and lemon and chervil veloute) and the Slow Braised Breast of Quail in Asia Style Masterstock (crispy skinned leg, lychee, coriander and Vietnamese mint salad, tempura coated quail's egg, star anis salt, soy and apple dressing). Visit Chill's website.
Dinner at Ocean Sands
The lush tropical gardens and barbecue area of our elegant yet cheap accommodation in Main Beach makes for an ideal setting for an amorous alfresco dinner. Its easy access to your snug and spacious Main Beach apartment accommodation and a long breathtaking kiss might be an inducement that's too tempting to deny.
For bookings at Ocean Sands, please click here.