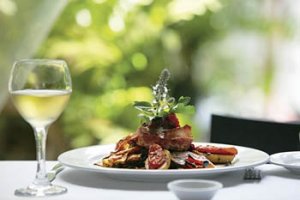 With a wide choice of international restaurants and casual cafes on offer, food lovers will never go hungry in Main Beach. Here is just a small selection of the great places to eat close to Ocean Sands Main Beach holiday accommodation.

Chill on Tedder
Chill on Tedder has won multiple awards for its imaginative and contemporary Australian cuisine and offers a sophisticated but laid back dining environment. Popular dishes include the lemon pan roasted snapper and the slow braised quail breast served with Vietnamese mint salad.

Shuck Seafood Restaurant
Tuck into expertly prepared king prawns and grilled oysters at this trendy and renowned seafood destination that's popular with couples. Their most famous dish is the fantastic crab lasagne – delicious with a chilled glass of white wine.

Ristorante Fellini
The chefs at Ristorante Fellini effortlessly demonstrate why authentic Italian food remains one of the most popular international cuisines in the world with their simple traditional menu. This family run restaurant is perfect for a romantic night out and the bresaola with sun dried tomatoes and olive oil is a must try. Belissimo!