Posted in
Accommodation
@
Oct 27th 2015 9:57am
- By Administrator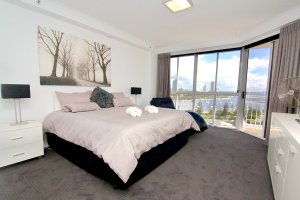 Leaving a hobby may be incredibly hard no matter how short it would be. Especially if it's about your health, how can you stop all the stretching, lifting, sweating, and whatnots you're so used to doing every single day? Sometimes you don't doesn't care anymore if the break is because of a trip to the Gold Coast, because a hobby is a hobby.

So are you thinking of not coming with your family to your holiday on the Coast with the Most? You may be missing out a lot by choosing that option.

How about simply suggesting that you book your stay at Ocean Sands Resort?

Sandwiched between the gorgeous beach of Surfers Paradise and the serene waters of Broadwaters, our Main Beach holiday accommodation will surely be enjoyed by both you and your family. And with our gymnasium as one of our resort facilities, you'll definitely be thrilled.

Packed with everything modern, you're free to use our facilities anytime you want as long as you're our guest. Find all your needed equipment like benches, dumbbells, leverage systems, smith machines, cable machines, suspension trainers, and more, and get to work out even if you're far from home.

And since you're already with your family, don't you think it would be a nice idea to invite them to try some of our modern equipment and convince them of the importance of getting fit through working out? If they like it, don't think it would be even nicer if you'll go back home carrying the same interest of getting fit and healthy just like you?

So go ahead and book your stay at our affordable accommodation Main Beach. What's more, we also have other facilities to keep every member of your family satisfied with us. We have a tropical outdoor pool for both your relaxation and added exercise, indoor heated pool for those wishing to swim without the heat of the sun, spa pool for your rejuvenation, steam room to release the toxins from your body, full sized tennis court for an alternative to working out in the gym, barbecue and entertainment area for your quality time with your family, and Tour Desk which can help you in your trip around the Gold Coast.

For booking information about Ocean Sands Resort, visit http://oceansands.etourism.net.au/.