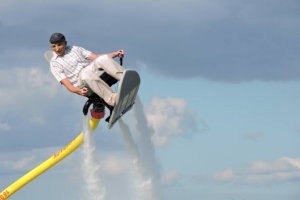 They say you only live once. So on your getaway to Main Beach, hit two birds with one stone by conquering both the sky and the ocean. To know how to achieve this action packed holiday, read on below.
• Conquer the Sky
Jetboard Flyboard Adventures, with office located in Waterways Drive, will let you soar up in the sky and feel the cool breeze, extreme joy, adrenalin rush, and total excitement. With its James Bond inspired water powered devices, you'll have a one of a kind experience in Main Beach.

There are three exciting water powered equipment to choose from: the Jetpack, Jetboard, and Jetbike.

The Jetpack is the first in the world which came out in Australis in 2012. This device comes as a backpack with straps as safety harness. With the water that is thrusted from the unit, the 20 metre hose, and then is forced to the two jet nozzles, you will incredibly fly into the sky from the water.

The Jetboard, also known as Fly Board, works the same way except the water powered device is attached to the feet which will make its user soar in the sky and dive into the water.

Meanwhile the newest is the Jetbike or Jetovator which also works the same but with the twist of riding the device like a bike in the sky.

With Jetboard Flyboard Adventures and your choice of a water powered device, even the sky isn't a limit anymore.

• Conquer the Ocean
Conquer the ocean and conquer your fear of the waves. Located in Seaworld Drive, Get Wet Surf School teaches the basics of surfing. As a family run business since 2005, the trainers make the lessons fun and light to keep each student engaged from start to finish. And with lessons conducted on Spit Beach, trainees will undergo a two hour beginner surf lesson first to get each student equipped on the excitement of surfing in the easiest way. Then after the brief instructions, each trainee is finally set out on the water with a dedicated instructor to guide them. Take part of this training and learn how to surf with style.

For your Main Beach apartment accommodation, why not try Ocean Sands Resort?

Elegantly situated in Tedder Avenue, you'll have a luxuriously restful stay with us. Book our Main Beach holiday accommodation at http://oceansands.etourism.net.au/, and see for yourself.
Image Source : Jetpack Adventures