Posted in
Local Events
@
Mar 3rd 2016 2:41pm
- By Administrator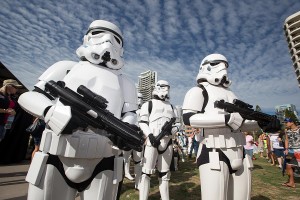 Although Halloween is still far down the 2016 calendar, there are plenty of occasions where you can wear your costumes. Besides, why wait for October, when you can celebrate three days of sheer Cosplay goodness with QPoW on Broadbeach this April?

Happening from April 8 to 10, 2016, prepare to enter a world of pop culture and fantasy among Queenslanders and holiday goers who will dress up as their favourite characters. So should you. Come as Princess Aurora, Spiderman, Pocahontas, Wolverine, Batman, or Elphaba. Get creative and surprise the community with your chosen character.

Relax and unwind outdoors with a series of public film screenings in Victoria Park, where you and your family can brush up on pop culture and be entertained with Ghostbusters and Harry Potter while enjoying a picnic-themed afternoon. For fans of Leonardo, Michaelangelo, Donatello, and Raphael, you can get your photos taken with them during the Nickelodeon Teenage Mutant Ninja Turtle Live Shows.

Have your most amazing Cosplay experience yet. If you can't get enough of the festive atmosphere, Gold Coast is also set to host the much-anticipated Supanova Pop Culture Expo and the Gold Coast Film Festival so that plenty of families can be part of them, too.

Drive to this side of Queensland and explore its limitless wonders. Meanwhile, we at Ocean Sands Resort invite you to take advantage of our address. Located at the famous corner of Tedder and Hughes Avenue, Main Beach, allow us to be your ticket to the most luxurious and relaxing beach holiday.

Famous for its elegant high-rise living spaces, Ocean Sands Resort boasts first-class amenities that will certainly provide you with the relaxation you need. Recharge through our outdoor and indoor pools, our spa, hot tub, jacuzzi, and sauna. Work up a sweat in our fully-equipped gymnasium and full sized tennis court. Grill your meals at our barbecue and entertainment area. Secure your car within our parking area. Experience genuine hospitality offered by our on-site managers and tour desk. Enjoy all these and more when you check in at Ocean Sands Resort!

Book your Main Beach Apartment Accommodation now by visiting http://oceansands.etourism.net.au. It's fast and easy!
Image Source : QPOW on Broadbeach