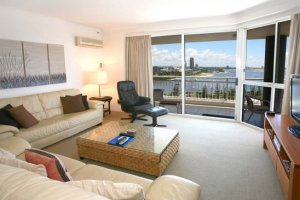 Have you been craving for the peace and quiet of a tropical island? Then you are most certainly welcome to Ocean Sands Resort where you can be in a tropical island, without actually flying out of Australia.
Situated in Main Beach's Tedder Avenue, our relaxing and affordable accommodation Main Beach is surrounded by everything pampering like cafes, restaurants, chic shopping centres, and more. The suburb is in between two great other suburbs, Surfers Paradise and Broadwater, so you don't only get to access Main Beach attractions easily such as Australia's Sea World, McIntosh Island Park, and Southport Yacht Club Incorporated, but also Infinity Attraction, Ripley's Believe It Or Not!, and Racecentre, among others.
Then with a selection ranging from Two Bedroom Deluxe, Two Bedroom Standard, Three Bedroom Standard, and Three Bedroom Deluxe Apartments, you'll get a big and cosy unit with complete kitchen and laundry facilities, spacious living area, dining area, master bedroom with comfortable queen sized and single beds and ensuite, a separate bathroom, and a private balcony with the elegant views of Broadwater, Hinterland, or Marina.
Right outside your unit is the indoor heated swimming pool where you can swim and practice your skills without the heat of the sun, the spa pool, Jacuzzi, and hot tub to help in the relaxation of your muscles and the improvement of your blood circulation, steam room and sauna to relieve yourself of stress, gymnasium and full tennis court for physical fitness, barbecue and entertainment area for that perfect bonding with your companions, and our Tour Desk service to help you around Gold Coast.
But what's best about our resort is its capability to make you feel like you're in some place foreign. Enter its tropical gardens and feel yourself in the tranquil Pacific Island with all the trees surrounding the place, plus a swimming pool to add to the refreshing feeling. In this place, you can quietly read a book or contemplate on your life like you're far away from the busy city life. Then once you need to take a break from reading or thinking, you can easily break away for a while by plunging into our tempting swimming pool. An amazing way to achieve the serenity you want, right?
Book our Main Beach apartment accommodation by visiting http://oceansands.etourism.net.au/.