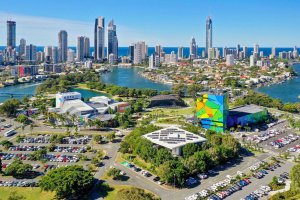 Spend a moment honouring and celebrating Australia Day. Being with family and friends is the best on this special day. Why not gather everyone together for a relaxing getaway on the Gold Coast?
You can unwind and enjoy the welcoming atmosphere at Ocean Sands Resort. The Main Beach holiday accommodation has a range of spacious, fully furnished Main Beach holiday apartments that provide exceptional comfort, with a main bedroom, an en-suite and walk-in closet, a separate main bathroom, a fully equipped kitchen, and laundry.
Also, all Main Beach apartments feature balconies with views of the Broadwater, Marina, or Hinterland. The resort's world-class amenities, including a tropical outdoor pool, a spa, a sauna, and more, allow you to pamper yourself.
Ocean Sands Resort offers access to various water activities for your enjoyment and is between the renowned beaches of Surfers Paradise and the serene waters of the Broadwater. Moreover, you can quickly join HOTA or Home of the Arts festivities to celebrate Australia Day.
2023 Australia Day
Visit HOTA Parklands and Outdoor Stage on January 26, Australia Day. The free, kid-friendly event begins at 4 p.m. after the exclusive citizenship ceremony for invite-only guests.
The hosts for this year's event are Triple M's Spida, Ali and Flan, with a live and local music lineup. Due to space limitations, arrive early to the HOTA Outdoor Stage if you want to catch the live music. Between the Outdoor Stage and the Parklands, there will also be a wide range of delicious food trucks and free kid-friendly activities. At 7:50 p.m., a fireworks display will conclude the lovely celebration.
Australia Day Cruise from Sea World
Would you like to enjoy a smoky barbecue, live music, and sparkling fireworks to celebrate? Join the Spirit of Elston or Kaiala, two contemporary and roomy ships, for a 3-hour night cruise that celebrates everything Australian.
While enjoying an authentic Australian barbecue, including the beloved sausage sizzle, you can sip ice-cold drinks from the fully stocked onboard bar. Enjoy live entertainment that features covers of music by iconic Australian bands like Powderfinger and INXS. Before eight o'clock, ascend to the roomy, outdoor viewing deck. The area provides breathtaking 360-degree views of the city, and you can see HOTA, Home of the Arts, spectacular fireworks display.
Sea World Carnivale
After Australia Day, there will still be more to see if you intend to stay longer. Sea World's annual iconic event begins on January 28.
The first Carnivale at Sea World was in 2017. It is an explosion of vibrant hues, captivating sounds, and mouthwatering flavours. The event promises to be more significant in 2023, beginning with its renowned water and light show.
Be sure to catch the Aqua Light Show and the Affinity Dolphin Presentation by Night. In addition, you can experience the theme park's rides and exhibits at night.
In case you were unaware, the top marine animal park on the Gold Coast now has three new attractions. Experience the myths, mysteries, and the ultimate Atlantean adventure as you enter the realm of the utopian destination, The New Atlantis, based on the heroes and legends of the Old Atlantis. Take a ride on the fantastic Leviathan, Trident, and Vortex attractions!
Travel through immersive precincts to round out your Carnivale experience. Taste international flavours while taking in spectacular live entertainment. Dance the night away in Rio and Mexico. After that, spend time in Africa and have a New Orleans-style party.
So don't miss out! Sea World Carnivale will take place on January 28, February 4, 11, 18, 24, and 25.
Plan your trip and book your Main Beach family accommodation now!