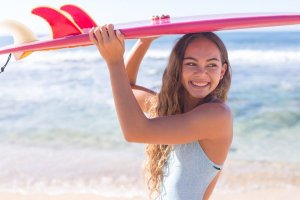 During your travels, it's always a good idea to check out the natural wonders and other must-see destinations. However, it is also beneficial to learn and experiment with new things. Do you have any surfing experience? Have you ever gone on an exhilarating jet boat ride? Then perhaps now is the time.
When visiting Main Beach, the Gold Coast's main surf beach, you might want to try the following activities.
Learn to Surf
If you haven't, why not learn to surf while you're at Main Beach? 1st Wave Surf School is the best place to do so. There is no need to be afraid because Surfing Australia, a National Sporting Organisation founded in 1963, requires that all coaching staff be fully accredited and qualified surfing coaches.
1st Wave Surf School has set requirements for all their coaching staff which are Level 1 Surfing Coach (Australian Coaching Council), Advanced Resuscitation Certificate, Surf Rescue Certificate, Senior First Aid Certificate, Queensland Government Blue Card Holder (working with children), and Approved Gold Coast City Council Surf Instructor Permit. So you can be sure that you will be safe and learn from the best.
Are you prepared to learn and participate in a surf lesson? The 1st Wave Surf School is located on Main Beach giving students easy beach access, a convenient meeting point, free parking, and ideal beginner surfing waves. The beachfront meeting point is Lifeguard Tower 40, while Lifeguard Tower 38 is an alternate location.
Now for the actual lesson. Every day, 1st Wave Surf School offers a variety of 1.5-hour lessons.
Surf Lessons for Beginners: Is this your first time? Then you've come to the right place. Learn basic surfing techniques such as paddling, catching waves, and standing up with our experienced surf coach.
Private Surf Lessons: Whether you are a total beginner or have taken a few lessons but want to polish and advance your skills, 1st Wave Surf School's private surf lessons are for you. Intermediate surfers are also welcome, mainly if they have recently purchased a new surfboard and have begun to paddle through the break zone to the back-breaking waves.
Corporate SUP and Surf Lessons: Are you going as a group for corporate SUP and surf lessons? Corporate, convention and workplace surf sessions are available at 1st Wave Surf School. However, for this class, more detailed information and coordination are required.
Aside from classes, 1st Wave Surf School rents out surf and SUP boards. The stock boards range from beginner to advanced levels for surfing and stand-up paddling. Surfers Paradise, Main Beach, The Spit, Broadbeach, Mermaid Beach, Miami, Burleigh Heads, and surrounding suburbs are all served by a free surfboard delivery service.
Are you prepared to begin the class? Reserve your time slot!
Experience a Jetboat Adventure
If you are not yet ready to learn to surf or if you already know-how, how about an extreme yet enjoyable water adventure? How does an adrenaline rush combined with world-class sightseeing by sea sound?
Then it's time to get ready for Jetboat Extreme! They were the first jet boat tour company in Surfers Paradise and have been in operation for more than 15 years. The Jetboat Extreme has the longest ride time of 55 minutes and travels 40 kilometres through the scenic Broadwater and Moreton Bay Marine Park scenery. They are the only jet boat tour company with access to Surfers Paradise's well-known waterways lined with multi-million dollar mansions and luxury yachts.
What's excellent about Jetboat Extreme is that their boats are spaciously designed to avoid overcrowding, allowing you to see more of the scenery. They are also the only jet boat tour company with official permission for passengers to use waterproof cameras and smartphones. As a result, you'll be able to capture a lot of exciting moments.
In terms of safety, Jetboat Extreme provides its passengers with slimline, inflatable life jackets that are incredibly comfortable, as well as safety belts. Be sure to bring your sunglasses to keep the wind and spray out of your eyes. Of course, you'll need your towel and change of clothes if you get wet on the ride.
Go on a Parasailing Adventure
How about a water adventure involving a parachute and flying while enjoying the wonderful coastline and water? Parasailing is the best activity as the rider soars up high in a parachute while being towed by a boat.
Surfers Parasailing can help you experience a breathtaking adventure solo with a friend or family. Yes, children as young as eight can board the boat and go parasailing. Take note that children under 18 must have their liability waiver signed by a parent or guardian. Then, before departure, there will be a safety briefing on board, so pay close attention. Surfers Parasailing's staff is friendly and knowledgeable, so feel free to ask any questions you may have.
The boat will depart once everything is in place, taking you to a great spot. Then prepare to step onto the flight deck, where you will be strapped in with a safety harness. Sit back and relax as you are lifted 350 feet into the air. Finally, you'll be able to take in a breathtaking view of the Gold Coast. If you're lucky, you might see some incredible wildlife while you're up there. Keep an eye out for dolphins, dugongs, and turtles.
Surfers Parasailing provides Solo, tandem, and triple parasailing excursions. Each has a flight time of 8 to 10 minutes and a round trip time of 90 minutes. The minimum weight for Solo is 60kg, while the maximum combined weight for Tandem and Triple is 200kg.
Everything sounds so exciting. On your vacation, dare to learn and try something new. You might also consider staying on the Gold Coast for convenience. Ocean Sands Resort provides vacation lodging on Main Beach. They have spacious, fully-equipped apartments close to many alfresco cafes, restaurants, fashion boutiques, and the beach.
Make your reservations right away!